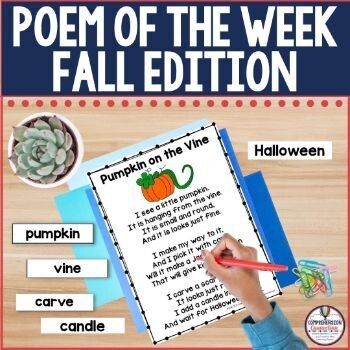 Poem of the Week Fall Edition
SKU 00064
Product Details
Reading fluency is a critical skill for all primary readers. Using a program is a well establish fluency building strategy. This bundle includes 9 original poems with blackline illustrations and color illustrations for fall and the beginning of winter.
HOW DOES POEM OF THE WEEK WORK?
Each poetry set is used for a week. It is meant to be about a 10-15 minute lesson to work on fluency. Students practice with repeated readings as well as other text marking tasks. Students can mark phrases, identify words by spelling pattern, find sightwords, etc. There are vocabulary word cards for words that might be tricky as well as a comprehension/word study page and a visualizing page.
WHAT TITLES ARE INCLUDED IN THIS POEM OF THE WEEK BUNDLE?
1. Little Pumpkin on the Vine
2. If I was a Field Mouse
3. Owl Up in the Tree
4. A Scarecrow's Job
5. Silly Little Puppy
6. Tough Turkey
7. Gingerbread Tricks
8. The Sights and Sounds of Christmas
9. Winter Fun
WHAT TEACHERS HAVE HAD TO SAY ABOUT THIS UNIT:
⭐️⭐️⭐️⭐️⭐️ Brittany G. says, "I used these poems to teach fluency to my struggling readers. They loved reading them and it gave them so much confidence in themselves as readers. I will definitely be buying more!!"
⭐️⭐️⭐️⭐️⭐️ Nicole D. says, "I LOVE this resource. We do this right in the morning and it really gets student looking for spelling patterns, reading comp. and is an easy tool to quickly gauge reading levels/difficulties/ etc. "
⭐️⭐️⭐️⭐️⭐️ Courtney E. says, "I loved this poetry packet! The poems are simple and easy to break down and enough fun to keep the children engaged. It is definitely a great introduction for kids into the world of poetry. I am adding a few more questions about feelings/thoughts regarding the poems, but otherwise everything is laid out really well to analyze the poems. My daughter is having a lot of fun with them!!"
⭐️⭐️⭐️⭐️⭐️ Veronica P. says, "I have my kids make a fluency book of poems at their level, I love being able to pick exactly what each kiddo needs.. "
Copyright © Comprehension Connection.
Permission to copy for single classroom use only.
Save this product for later