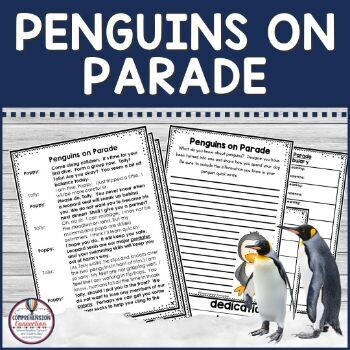 Penguins Partner Play, Winter Partner Play, Fluency Activity
SKU 00053
Product Details
Students LOVE partner plays and reader's theater. But research shows they are great for building fluency and comprehension skills too. Penguins on Parade is a winter partner play about two young penguins who are still learning. It's their first day of penguin school, and your students will love how Tolly and Poppy navigate it. The play includes before, during, and after reading activities for vocabulary, deeper comprehension, and additional fluency practice.
HOW TEACHERS CAN USE THIS PARTNER PLAY IN THE CLASSROOM:
The play is three pages in length and includes two voices. I recommend using this resource as a fluency center during your guided reading block or using it with your small groups. Each of my partner plays take about 3-4 days to complete because of the supplementary materials included, but teachers can pick and choose which activities work best for their students' needs.
WHAT IS INCLUDED IN THE PARTNER PLAY RESOURCE?
The partner play comes with the following activities and materials:
4 page Penguins on Parade Script
Quick Write about Penguins
A vocabulary page (Using Context Clues) and word cards
Questioning task cards (12 cards), and a Response Form
Four Square Comprehension Page, and
Penguin Pride Writing Extension
MORE ABOUT THIS RESOURCE:
Teachers can use the activities and play for paired reading during Read with Partner or the Guided Reading block. Students will practice finding text evidence to make comparisons, analyze character traits and development, and story elements.
OTHER PARTNER PLAYS YOU MIGHT ENJOY:
OR....you can get them all at a great savings with the bundle:
PARTNER PLAYS BUNDLE FOR UPPER ELEMENTARY
TEACHERS LIKE YOU SAID…
⭐️⭐️⭐️⭐️⭐️ Janet Simpson (TpT Seller) says, "Perfect. Exactly what I was looking for! The kids LOVE these! Thank you."
⭐️⭐️⭐️⭐️⭐️ Andrea Crawford at This Literacy Life (TpT Seller) says, "I love these partner scripts, and this will be another wonderful one to add to my collection! Thanks so much!"
⭐️⭐️⭐️⭐️⭐️ Stories and Songs in Second (TpT Seller) says, "I can't wait to use this wonderful Reader's Theater script and all of the extension activities with my students! They LOVE all things penguin-related!"
⭐️⭐️⭐️⭐️⭐️ Ms D's Literacy Lab (TpT Seller) says, "I like the way you weaved content area vocabulary into a fun RT script as well as adding the question cards. Thanks !"
Copyright © Comprehension Connection.
Permission to copy for single classroom use only.
Please purchase additional licenses if you intend to share this product.
Save this product for later