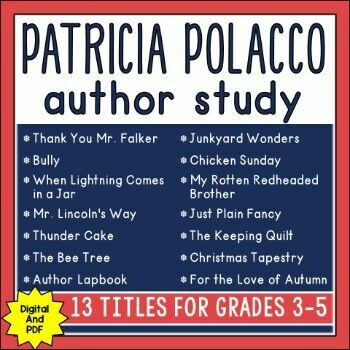 Patricia Polacco Author Study (Google Slides TM and PDF)
SKU 00183
Product Details
If you love Patricia Polacco's books, then having grab and go materials to go with them is a HUGE help. This author study includes materials for *13* titles PLUS an author research lapbook for a total of 560+ pages of materials.
Patricia Polacco is a favorite for teachers and students. Her books are filled with tier 2 vocabulary and so many relevant social themes. Using Polacco's books in guided reading or as a mentor texts for writing helps your students far beyond reading and writing. Her books help children for life! The bundle now includes both formats (Google Slides TM and a PDF printable) for expanded options. Each unit comes in a before, during, and after reading format.
Your students will have the opportunity for learning many comprehension skills and strategies, writing about theme related topics that go with each book, and expanding their vocabulary with the rich language each offers. Skills include: cause/effect, summarizing, story elements, point of view, inferences, drawing conclusions, questioning, theme, characterization, sequencing, finding text evidence, and more.
This bundle is thorough, and the activities work well in pairs, small group, or with whole group for skill modeling (mentor text lessons). If you prefer to use just a few titles, you can check out each with the links below. The author study bundle is the best value however.
Chicken Sunday
The Keeping Quilt
Thunder Cake
My Rotten Redheaded Older Brother
The Bee Tree
Just Plain Fancy
When Lightning Comes in a Jar
Bully
For the Love of Autumn
Christmas Tapestry
Thank You Mr. Falker
Junkyard Wonders
Mr. Lincoln's Way
For a detailed look at this unit, a preview is provided with all pages visible for each unit. Please download and preview it in case you have questions.
© 2019 Comprehension Connection by Carla Fedeler All rights reserved.
Save this product for later