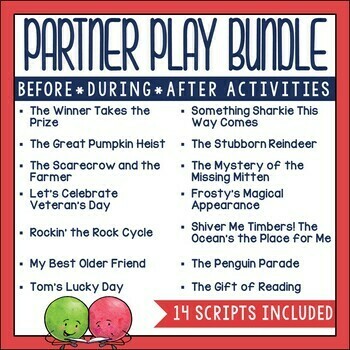 Partner Plays for Big Kids (15 sets)
SKU 00019
Product Details
This huge bundle of fifteen ORIGINAL partner plays includes before, during, and after reading activities to help your students with vocabulary, reading fluency, comprehension skills including story elements, questioning, finding text evidence, characterization, sequencing, and writing.

Students read and practice in a Close Reading format to improve fluency and deepen comprehension. Each script is written on a 3rd to 4th grade level, but can be extended to fifth grade with the type of comprehension skills included.

A preview file is attached above that shows what is included with each set. The scripts are 3-5 pages in length and are accompanied by a pre-reading schema builders, a vocabulary page, the task cards, a graphic organizer for during reading, and a post reading writing prompt. (~15 pages per set) or 225 pages total.

The titles include the following:

The Winner Gets the Pie (Apple Picking)
The Great Pumpkin Heist (Halloween)
The Farmer and the Scarecrow (Fall)
Let's Learn about Veteran's Day
The First Thanksgiving
Tom's Lucky Day (Thanksgiving)
The Gift of Reading (Christmas)
The Stubborn Reindeer (Winter/Christmas)
The Mystery of the Lost Mitten (winter)
Frosty's Magical Appearance (winter)
Penguins on Parade (winter)
Rockin the Rock Cycle (Rocks and Minerals)
Shiver Me Timbers! The Ocean's the Place for Me (Oceanography)
Something Sharkie This Way Comes (Ocean Animals)
My Best Older Friend (Grandparent's Day)
Save this product for later