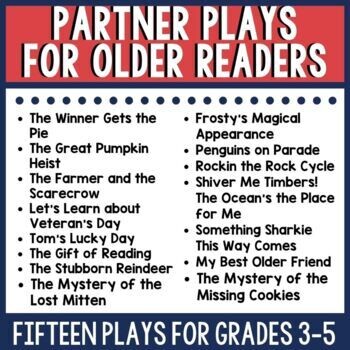 Partner Plays for Big Kids (15 sets)
SKU 00019
Product Details
Partner plays are engaging and effective in building reading fluency and comprehension. This huge bundle of 15 ORIGINAL partner plays includes before, during, and after reading activities to help your students with vocabulary, reading fluency, comprehension skills including story elements, questioning, finding text evidence, characterization, sequencing, and writing. Students read and practice in a Close Reading format to improve fluency and deepen comprehension. Each script is written on a 3rd to 4th grade level, but can be extended to fifth grade with the type of comprehension skills included.
WHAT'S INCLUDED IN EACH OF THE FIFTEEN PARTNER PLAYS?
A preview file is attached that shows what is included with each set. The scripts are 3-5 pages in length and are accompanied by a pre-reading schema builder, a vocabulary page and word cards, question task cards and response form, a graphic organizer for during reading, and a post reading writing prompt. (~17 pages per set) or 270 pages total.
WHAT TITLES ARE INCLUDED IN THIS PARTNER PLAY BUNDLE?
The Winner Gets the Pie (Apple Picking)

The Great Pumpkin Heist (Halloween)

The Farmer and the Scarecrow (Fall)

Let's Learn about Veteran's Day

Tom's Lucky Day (Thanksgiving)

The Gift of Reading (Christmas)

The Stubborn Reindeer (Winter/Christmas)

The Mystery of the Lost Mitten (winter)

Frosty's Magical Appearance (winter)

Penguins on Parade (winter)

Rockin the Rock Cycle (Rocks and Minerals)

Shiver Me Timbers! The Ocean's the Place for Me (Oceanography)

Something Sharkie This Way Comes (Ocean Animals)

My Best Older Friend (Grandparent's Day)

The Mystery of the Missing Cookies (any time)
OTHER RESOURCES FOR FLUENCY YOU MIGHT ENJOY:
WHAT TEACHERS LIKE YOU SAID ABOUT MY PARTNER PLAYS:
⭐️⭐️⭐️⭐️⭐️
Mrs O Knows
(TpT Seller) says, "These partner scripts always come in handy for my struggling readers! I'm thrilled to add another to my growing collection!"
⭐️⭐️⭐️⭐️⭐️ Amy D. says, "Awesome activities to put to use before the holidays. My kids were engaged and enjoyed this. Definitely something I will turn to year after year."
⭐️⭐️⭐️⭐️⭐️
JD's Rockin' Readers
(TpT Seller) says, "Carla, I have been using some of your partner scripts with my highest first graders during guided reading! They have been great! These kids are at higher reading levels but still need to be able to use context clues to figure out new vocabulary! These have been PERFECT for them! Thanks! Jennie"
⭐️⭐️⭐️⭐️⭐️
Teaching in Progress
(TpT Seller) says, "I love this and will be using this week with one of my independent groups! The task cards are terrific and the whole pack is so nicely put together!"
⭐️⭐️⭐️⭐️⭐️
The Perfect Procrastinator
(TpT Seller) says, "My 3rd graders love reader's theater. The extra comprehension tasks were great additions to stations! "
Copyright © Comprehension Connection.
Permission to copy for single classroom use only.
Please purchase additional licenses if you intend to share this product.
Save this product for later