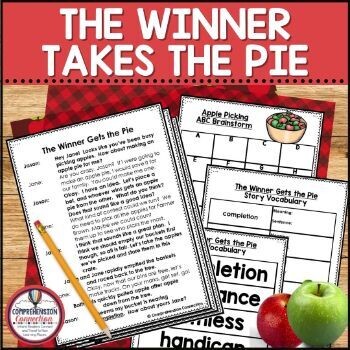 Partner Play for Fall, Fluency Activity, Apple Themed Reader's Theater
SKU 00052
Product Details
Partner plays are great for building fluency and comprehension skills. The Winner Gets the Pie is a partner play for the middle grades about two children who compete to see who can pick the most apples. (Tortoise and the Hare so to speak.) The play includes before, during, and after reading activities for deeper comprehension and additional fluency practice.
HOW TEACHERS CAN USE THIS PARTNER PLAY IN THE CLASSROOM:
The play is three pages in length and includes two voices. I recommend using this resource as a fluency center during your guided reading block or using it with your small groups. Each of my partner plays take about 3-4 days to complete because of the supplementary materials included, but teachers can pick and choose which activities work best for their students' needs.
WHAT IS INCLUDED IN THE PARTNER PLAY RESOURCE?
The partner play comes with the following activities and materials:
3 page Winner Gets the Pie Script
Schema Builder about Apple Picking Vocabulary
A vocabulary page( Using Context Clues) and word cards
Questioning task cards (12 cards), and a Response Form
Four Square Comprehension Page, and
Apple Picking Day Writing Extension
MORE ABOUT THIS RESOURCE:
Teachers can use the activities and play for paired reading during Read with Partner or the Guided Reading block. Students will practice finding text evidence to make comparisons, analyze character traits and development, and story elements.
OTHER PARTNER PLAYS YOU MIGHT ENJOY:
OR....you can get them all at a great savings with the bundle:
PARTNER PLAYS BUNDLE FOR UPPER ELEMENTARY
TEACHERS LIKE YOU SAID…
⭐️⭐️⭐️⭐️⭐️ The Perfect Procrastinator (TpT Seller) says, "My 3rd graders love reader's theater. The extra comprehension tasks were great additions to stations! "
⭐️⭐️⭐️⭐️⭐️ Joan T. says, "A perfect fit for my "Friday Fluency" activities "
⭐️⭐️⭐️⭐️⭐️ JD's Rockin' Readers (TpT Seller) says, "Carla, I have been using some of your partner scripts with my highest first graders during guided reading! They have been great! These kids are at higher reading levels but still need to be able to use context clues to figure out new vocabulary! These have been PERFECT for them! Thanks! Jennie"
⭐️⭐️⭐️⭐️⭐️ Teaching in Progress (TpT Seller) says, "I love this and will be using this week with one of my independent groups! The task cards are terrific and the whole pack is so nicely put together!"
Copyright © Comprehension Connection.
Permission to copy for single classroom use only.
Please purchase additional licenses if you intend to share this product.
Save this product for later