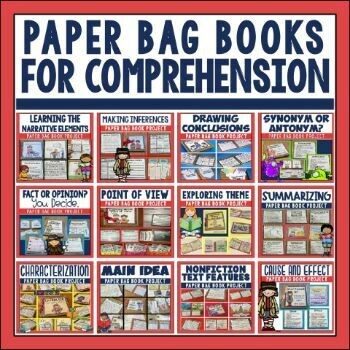 Paper Bag Books for Comprehension
SKU 00013
Product Details
You name the reading skill, and there is likely a project for it within this bundle. Customers have called this bundle "COMPREHENSIVE AND WELL PUT TOGETHER". The preview shows you the THIRTEEN projects that are included. They can be used with whole group for review, strategy groups, as intervention support, as a pair/share activity, or individually in work stations. Additionally, you can use parts of the projects within interactive notebooks if you choose. They are perfect for practice or remediation as well as for fun test prep as you approach your state's end of the year testing.
For each book, you will need 2-3 paper lunch bags, a hole puncher, and ribbon or a stapler for binding. This bundle began as a growing bundle, but is now complete with *13* books in all! They're perfect for instruction, intervention, and remediation.
Skills included are:
Fact and Opinion
Cause and Effect
Making Inferences
Synonyms and Antonyms
Point of View
Narrative Elements
Drawing Conclusions
Theme
Summarizing
Characterization
Main Idea
Nonfiction Text Features
Nonfiction Text Structures
Making Predictions
and Making Comparisons
*15* PROJECTS IN ALL...$2.80 EACH OR 30% OFF separate purchasing.
Save this product for later