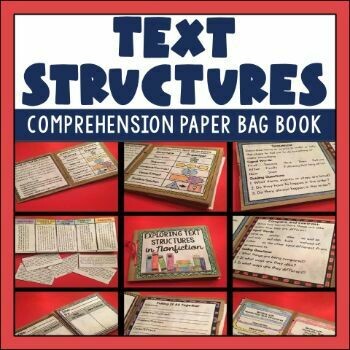 Nonfiction Text Structures Paper Bag Book
SKU 00178
Product Details
Learning Nonfiction Text Structures helps students break down the text into understandable parts. This ENGAGING and FUN project teaches the five structures and provides students with MEANINGFUL PRACTICE. It can be used as a work station, in interactive notebooks, with small groups, or as an at home project.
Project Focus:
Students learn how to use text features to learn information from nonfiction books. Students use the first seven pages for learning about each nonfiction text structure. Then, they pull the information together, practice reading paragraphs to determine the structure, work with texts (book list provided), write a sample for each structure, and summarize their learning. Again, you can use the pages in the book as displayed or in your interactive notebooks. The books also work well in guided reading groups and as a pair/share activity.


Project Details:
Cover
The Scoop on Text Structures
Breaking Down Structures
Anchor chart for Description, Sequential, Compare/Contrast, Cause/Effect, and Problem/Solution
Sorting Examples
Identifying structures in nonfiction texts (2 books from list)
Writing Examples for each structure
Summarizing Your Learning
Grading Rubric
To get them all, purchase this growing bundle.
Paper Bag Book Bundle for Reading Comprehension
© 2019 Comprehension Connection by Carla Fedeler All rights reserved.
Save this product for later