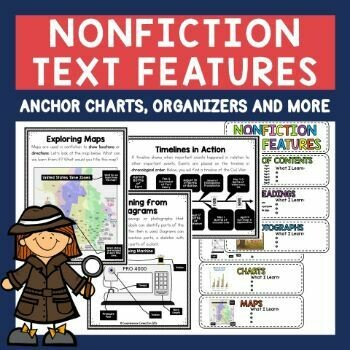 Nonfiction Text Features Teaching Bundle
SKU 00177
Product Details
This Teaching Nonfiction Text Features Bundle will be growing, but currently includes five teaching options for nonfiction features. Teachers can choose the features that are appropriate for their grade level for each of the options below:
Teaching Charts for Printing or Projecting
The teaching charts can be projected for the teacher to demonstrate how the feature helps readers better understand nonfiction text. They can also be printed for reference in student reading binders or interactive notebooks.
Task Cards
Task cards (12) are included for students to use with Scoot or group discussion. Teachers can use them with a collection of nonfiction books and have students locate the features described. A recording sheet is included.
Enlarged Task Cards for Projecting
The task card riddles are repeated on single pages for projecting and use in a whole group setting. Teachers can use these with cooperative groups and have the groups locate each feature for discussion.
Text Feature Organizers;
In stations, you could use the text feature organizers with a collection of books for students to analyze the text. Students can locate the features and describe them using the organizers.
Teaching Presentations
Powerpoint presentations have been converted to PDFs for modeling. You can show a slide at a time for group discussion and demonstration. Presentations included so far are: Table of Contents, Using an Index, Using a Glossary, and Reading Maps (more coming)
Nonfiction Text Feature Accordion Book
Finally, an accordion book is included for use in interactive notebooks or as a bookmark as students read nonfiction. The student can refer to the accordion book if needed.
Save this product for later