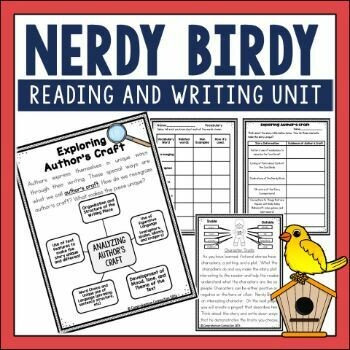 Nerdy Birdy Book Companion
SKU 00080
Product Details
This COMPREHENSIVE print and go unit offers engaging skill based activities for deeper understanding and theme extension. Students will learn from the book themes of inclusivity and acceptance of differences too. It is excellent choice as a mentor text for comprehension strategies (author's craft, character development, and making comparisons) and for writing (ideas-building an inclusive classroom).
The bundle is set up in a before/during/after format for guided reading, but parts can also be used for mentor text lessons or for writing.
Skills included are:
Schema building about friendships. (That's Me!)
Vocabulary organizer and cards
Story elements flapbook
Characterization (anchor chart and project)
Author's Craft (anchor chart and response page)
Question task cards (4 per page and 1 per page for projecting and response page)
Summarizing the main idea
Close Reading about Birds (Paired Texts)
Class Book-Building an Inclusive Classroom
39 pages
If you have questions, please ask. Please check the product preview slides for a complete picture of what you are purchasing.
© 2016 Comprehension Connection by Carla Fedeler All rights reserved.
Save this product for later