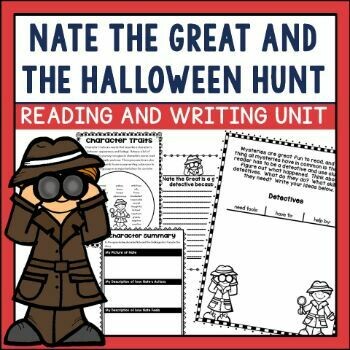 Nate the Great and the Halloween Hunt
SKU 00179
Product Details
This PRINT and GO bundle will make your planning EASY and learning FUN! It is COMPREHENSION FOCUSED with materials to address a variety of skills for close reading. Kids LOVE Nate and will really enjoy these activities.
WHAT'S INCLUDED AND ADDRESSED?
1) A schema building activity about detectives.
2) Story impressions strategy to make predictions and Vocabulary Cards
3) Making Connections
4) Character Traits (anchor chart), organizer for during reading, and character summary page
5) Summarizing anchor chart and strategy pages
6) Story Elements of a Mystery
7) Question Task Cards and Response page for group discussion or comprehension check.
8) A post reading activity where students provide a summary after checking and correcting original predictions.
9) Class book about making Halloween plans.
24 pages in all
For a detailed look, you can preview the file using the link provided.
© 2019 Comprehension Connection by Carla Fedeler All rights reserved.
Save this product for later