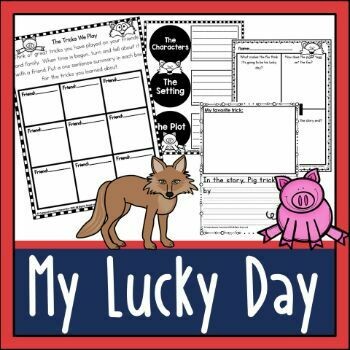 My Lucky Day by Keiko Kasza Activities
SKU 00115
Product Details
My Lucky Day
is the perfect book for the
Thanksgiving season to use as a mentor text. It has a clever plot, great
examples of voice and word choice, and fabulous character development.
This PRINT and GO unit is EASY TO USE and FUN!
WHAT'S INCLUDED:
This unit is intended to be used for comprehension and writing. Students analyze the text through before/during/after activities such as outlining the plot events, working with vocabulary, making inferences using text examples, and applying their learning in their own writing piece. You can get a great feel for the unit using the preview supplied.
SKILLS ADDRESSED IN THE UNIT:
Schema builder on playing tricks
Vocabulary organizer and word cards
Story elements
Guiding Questions/Text Evidence
Making connections
My Favorite Trick
Story Retelling
Analyzing Text Column Notes
Question Task Cards
Narrative Writing Prompt including planning, drafting pages, writing checklist, and final draft pages for publishing.
21 pages in all.
Save this product for later