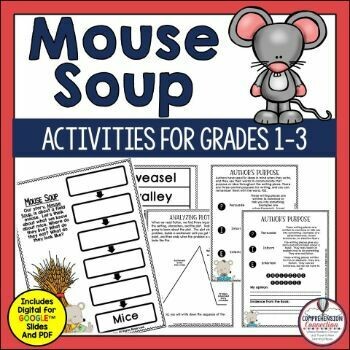 Mouse Soup Activities
SKU 00107
Product Details
Mouse Soup is a great book for the beginning reader, and this comprehension focused book companion will help make planning for guided reading or book clubs easy and effective. It comes in PDF and Google Slides TM formats to give you more options for modeling and practice. Use the electronic version for whole group discussion and the PDF for small groups. Skills are presented in a before, during, and after format.
and responding to reading.
Repeated reading with this book would provide practice as each new chapter is introduced during the week. For an idea of how the activities are structured, take a look at the preview file and thumbnails. Please note that the electronic version addresses the same skills as the PDF and uses Google Slides TM.
© 2019 Comprehension Connection by Carla Fedeler All rights reserved.
Save this product for later