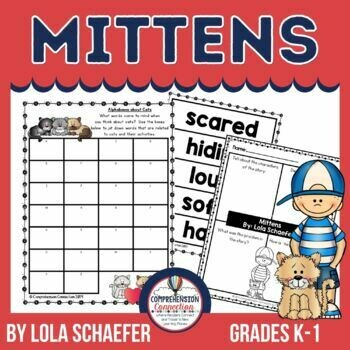 Mittens by Lola Shaefer Book Activities
SKU 00299
Product Details
Mittens by Lola Schaefer is a sweet beginning reader about Mittens, the cat. This unit would work well for first grade level readers. Just print and go! Use for guided reading, partner work, or literature circles.
What's Included:
schema builder about cats
story vocabulary cards and organizer
BME organizer
favorite scene writing prompt
making connections
responding to comprehension questions (task cards and recording sheet)
comparing fiction and nonfiction anchor chart and organizer
writing prompt for "Mittens Adventures"
sequencing events organizer
four square thinking page
There are 19 pages included for teachers to choose skills that fit curriculum needs.
Save this product for later