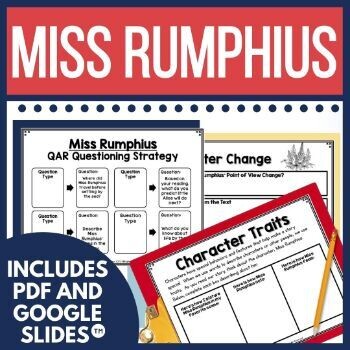 Miss Rumphius Book Activities
SKU 00264
Product Details
Miss Rumphius is a sweet book about making a difference in the world. It's perfect for this time of year to highlight the importance of Earth Day, and this unit focuses on this theme with a class book for extension.
HOW TEACHERS CAN USE THE MISS RUMPHIUS RESOURCE:
The unit comes in both PDF and Google Slides TM and can be used in all group settings. You can choose activities for mentor text lessons, book clubs, guided reading groups or paired reading.
WHAT SKILLS ARE INCLUDED IN THE MISS RUMPHIUS RESOURCE?
schema building about how we can use our skills to help others
vocabulary lesson materials (organizer and word cards and practice activity
questioning strategies using the QAR method including an anchor chart, foldable, guided practice pages, and independent work
character traits
character change
a story elements flapbook
a four square thinking page
question task cards and response form
story summarizer
and the writing prompt you can use for a class book
48 pages in all (1/2 PDF and 1/2 Google Slides TM)
OTHER BOOK UNITS YOU'D ENJOY:
GET THE SPRING BOOK BUNDLE:
WHAT TEACHERS HAVE HAD TO SAY ABOUT OUR POETRY BUNDLES:
⭐️⭐️⭐️⭐️⭐️ Lorraine V. says, "Great resource to inspire students to make the world a better place"
⭐️⭐️⭐️⭐️⭐️ Ashley Lafleur (TpT Seller) says, "This is one of my favorite books ever, so I'm glad I found a resource that was helpful when I read it to my class! "
⭐️⭐️⭐️⭐️⭐️Fiona Connelly (TpT Seller) says, "I have loved this book for years and am so glad to have resources to help us use it for more than just a fun read-aloud at the end of the year. "
Copyright © Comprehension Connection.
Permission to copy for single classroom use only.
Please purchase additional licenses if you intend to share this product.
Save this product for later