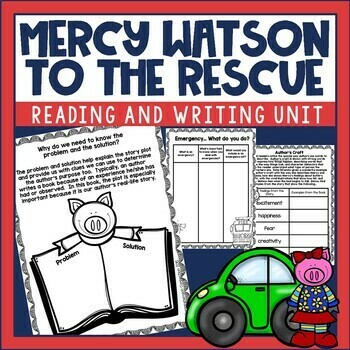 Mercy Watson to the Rescue Book Activities
SKU 00231
Product Details
Mercy Watson to the Rescue is a must read with every second grader. Mercy Watson to the Rescus is a fun story of a pet pig! Students will get to know author Kate DiCamillo, a favorite for many. The activities in this unit are organized in before, during, and after fashion.
WHAT'S INCLUDED?
schema building
tier 2 vocabulary for the book
story plot (problem/solution)
summarizing
author's craft (2 pages)
visualizing
author's purpose
questioning (test)
book review project, and
a writing prompt.
The unit includes 13 pages of activities.
For a detailed look at this unit, zoom into the preview images above.
© 2019 Comprehension Connection by Carla Fedeler All rights reserved.
Save this product for later