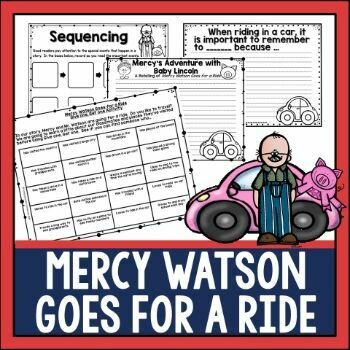 Mercy Watson Goes for a Ride Book Activities
SKU 00162
Product Details
Mercy Watson Goes for a Ride is perfect for any second or third grader ready for chapter books. This unit includes before/during/after activities to help your students deepen their understanding. It is Common Core aligned, and EASY to USE. Just PRINT and GO!
Skills addressed with this unit include:
Give One, Get One
Pigs brainstorming
Vocabulary
Point of view,
Comparing characters
Sequencing
Summarizing BME
Questioning task cards
Visualizing
Making connections
Fiction and Nonfiction Elements and Analysis
Character Analysis and Character Change
and two written responses including a class book on car safety.
25 pages
These activities would work well as part of an author study of Kate DiCamillo, as a class read aloud to model strategies for younger readers, and with partner reading.
Save this product for later