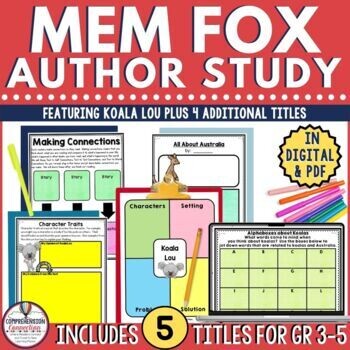 Mem Fox Author Study in Digital and PDF
SKU 00039
Product Details
This Mem Fox Author Study is just what you need to celebrate this famous Aussie author. It has all the materials you need to go with Wilfred Gordan McDonald Partridge, Koala Lou, Harriet, You Drive Me Wild, Possum Magic, and Shoes from Grandpa in both Digital and PDF formats. These wonderful books celebrate life in Australia and family relationships. This bundle includes guided reading materials that you can use with the books, writing options, and more.
HOW TEACHERS CAN USE THIS MEM FOX AUTHOR STUDY:
The focus of these units is on comprehension skills and strategies aligned with the Common Core standards, Virginia Standards of Learning, and TEKS. The units are organized in a before-during-after format including vocabulary for prereading and writing options for after.
HOW THIS MEM FOX AUTHOR STUDY IS ORGANIZED:
Each unit includes approximately 35 pages (15-17 DIGITAL AND 15-17 PDF (same activities) or 175 total pages aimed to guide your readers toward deeper thinking. Skills are modeled with anchor charts and applied with story information. A preview of each unit is included with the preview tab. If you have any questions, please message me with the Q and A tab.
WHAT SKILLS ARE INCLUDED IN THE AUTHOR STUDY?
schema building for each story theme
tier 2 vocabulary activities
making connections
summarizing
questioning
making comparisons
sequencing
character traits
point of view
cause and effect
story elements
making predictions
plot
and writing in response to reading
TEACHERS LIKE YOU SAID…
⭐️⭐️⭐️⭐️⭐️ Pamela B. says, "We are loving reading these books and doing the activities. It is sparking great conversations. Great review of reading skills."
⭐️⭐️⭐️⭐️⭐️ Nicole M. says, "I was able to use many of these resources in my first grade classroom! I love that there are so many Mem Fox books in the packet!! Great resource for our Mem Fox study!"
⭐️⭐️⭐️⭐️⭐️ Stephanie H. says, "I love Mem Fox! This was a wonderful addition to the information I already had on her. The enjoyed reading and writing about her using your materials. Great resource!"
⭐️⭐️⭐️⭐️⭐️ Unknown says, "This is an amazing resource for Mem Fox's books! Thank you! "
⭐️⭐️⭐️⭐️⭐️ Elizabeth C. says, "I am a huge fan of Mem Fox books and your resources have been fabulous in inspiring the kids and developing their interest too! Thanks for a fantastic resource!"
OTHER AUTHOR STUDIES YOU'D ENJOY:
Copyright © Comprehension Connection.
Permission to copy for single classroom use only.
Please purchase additional licenses if you intend to share this product.
Save this product for later