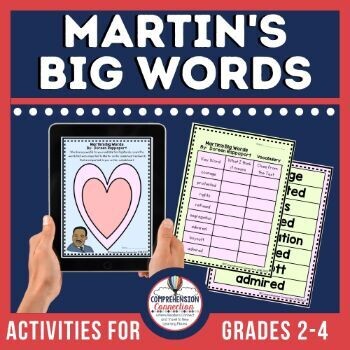 Martin's Big Words Book Companion and Lapbook
SKU 00322
Product Details
This resource for Martin's Big Words is a packed with materials for introducing a study of Martin Luther King Jr.'s life and contributions. This bundle includes before, during, and after reading activities for Martin's Big Words that you can use for mentor text lessons or guided reading. The set also includes a lapbook project for post reading and a writing prompt for a class book that pulls all the learning together.
What's Included in this Martin's Big Words bundle?
Story Vocabulary
Schema Builder-Gathering Important Words
Story Impressions using Text Events
3 pages of question task cards for discussion
Recording page for question responses
Lapbook Cover Images
Important Life Events Flap book
Martin's Quotes Illustrated
Then and Now
Martin's Words Illustrated
Facts Flapbook
About the Author
Dreams in Action
I can make a difference
How I Feel about Martin's Big Words
How is the Martin's Big Words Unit organized?
The bundle includes 50 pages. Your students will have the opportunity for learning many comprehension skills and strategies, write about Martin's life and work, and deepen their understanding of how important it is to treat everyone equally.
The unit comes in digital for Google Slides TM as well as in pdf for printing. I suggest using it for MLK Jr. Day or for Black History Month. A preview of the unit included is attached that shows all of the activities included.
Save this product for later