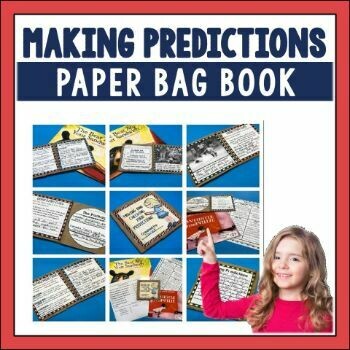 Making Predictions Paper Bag Book
SKU 00031
Product Details
Need a fun hands project for your students' ELA block to teach and practice making predictions? Look no further. This paper bag mini book project hits all of the teaching points to teach, guide, and practice making predictions with pictures, text, paragraphs, and with self selected books. It can be used with your small group instruction, as practice in a workstation with parent support, or for partner work. Students work on a section at a time and complete the book over the course of a week. You can use them as guided practice or as an assessment too with the rubric that is included.
Project Details:
⍟ Cover
⍟ Teaching chart about how to make predictions
⍟ Modeling with a Mentor Text (A Bear Ate Your Sandwich-not included) (2 pages)
⍟ Predicting using pictures (2 pages)
⍟ Predicting with sentence clues (2 pages)
⍟ Predicting and confirming predictions with text evidence (2 pages)
⍟ Predicting using Self Selected Texts (3 pages)
⍟ Pulling it all together summary
⍟ Grading Rubric
The final book is 12 pages in length and will take a week to complete. It is best for grades 2-3, but could work well with strong first graders or struggling fourth graders. Please note that the book pieces can also be used in interactive notebooks, so teachers have that option too.
Save this product for later