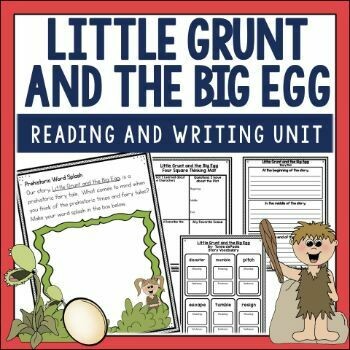 Little Grunt and the Big Eggs
SKU 00168
Product Details
This engaging hands-on set of activities for
Little Grunt and the Big Egg
addresses many skills in a before/during/after format. Many teaching options are available to allow the teacher to address multiple skills with one text.
The skills addressed within the unit include:
Developing story schema and vocabulary
Story elements including characters, setting, and plot (multiple pages)
Cause and effect relationships (anchor chart, teaching organizer, and independent matchbox foldable)
Making inferences (anchor chart and flipbook project)
Questioning skills for group discussion with recording sheet
Class book project-Little Grunt's Big Adventures...22 pages total.
These activities would work well in a guided reading, with partner work, as a literacy workstation, or as a writing extension activity to accompany the book during writer's workshop.
© 2019 Comprehension Connection by Carla Fedeler All rights reserved.
Save this product for later