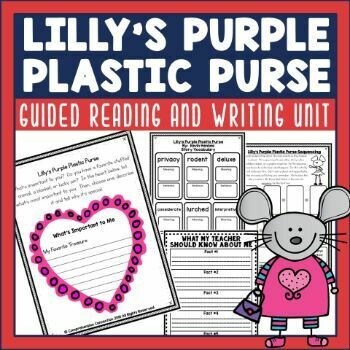 Lilly's Purple Plastic Purse Book Activities
SKU 00164
Product Details
This PRINT AND GO unit includes before, during, and after activities using the book Lilly's Purple Plastic Purse. It's well planned and easy to use. It works well for guided reading, literature circles, for skill modeling, and for use with substitutes.
WHAT'S INCLUDED?
✱schema building
✱vocabulary organizer and word cards
✱making predictions
✱making connections
✱sequencing events
✱guided questions column notes
✱character traits
✱story elements
✱questioning/discussion task cards
✱writing about reading
✱and a final class book project (Facts About Me).
22 pages in all
© 2019 Comprehension Connection by Carla Fedeler All rights reserved.

Save this product for later