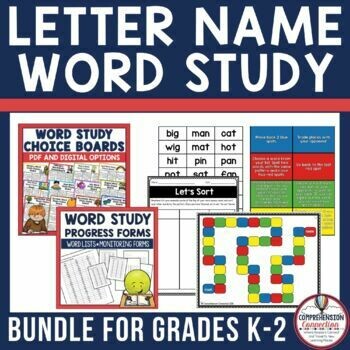 Letter Name Word Study Bundle
SKU 00286
Product Details
This bundled set of files includes 59 word sorts for all features at the Letter Name stage, 10 pages of beginning sound picture cards, 23 pages of forms,games, and activities, 14 pages of progress monitoring, and digital and pdf menu boards for each month that can be projected for literacy work stations or printed for homework choices (135+ pages total)
For each feature, there are multiple sorts to allow review when mastery is not attained. For my students, I provide a composition notebook with a library pocket in the front. Students store the sorts in the front and work with them through the week. Our last activity is to glue them in the notebooks; however, if the teacher does not want to do notebooks, there is a form for gluing sorts as an activity.
This file is zipped and organized by feature...beginning/ending sounds, short vowels, blends/digraphs, affricates, and nasal endings. The activities, word study menus, and progress monitoring forms are included within this bundle and are the same products that are listed separately.
Buyer Comment:
Thanks! This has made my life so much easier! A very worthwhile investment!
To learn more, click HERE to read my blog post about this stage.
Save this product for later