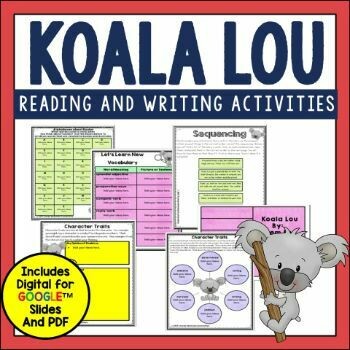 Koala Lou Book Activities
SKU 00070
Product Details
Koala Lou is a sweet book, and this comprehension focused unit includes Google Slides TM and pdf formats. It is perfect for small group and paired reading. It includes choices for before, during, after reading that students can complete via an iPad or Laptop or with a printable. It makes planning easy and learning fun.
Activity options are:
schema building about koalas (alphaboxes)
tier 2 vocabulary introduction and practice
sequencing (project) -2 pages
story elements
character traits-2 pages
making connections
visualizing
research about koalas and Australia
and writing in response to reading
Be sure to check out the preview provided.
© 2019 Comprehension Connection by Carla Fedeler All rights reserved.
Save this product for later