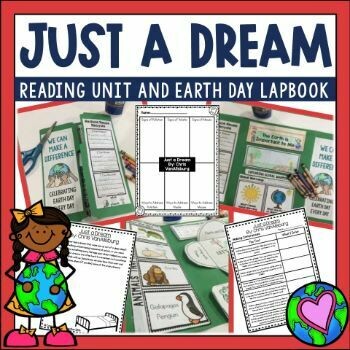 Just A Dream Book and Earth Day Activities
SKU 00167
Product Details
Just a Dream is a great book to use to celebrate Earth Day, as a connection with your ecology unit, or for comprehension skill modeling. Chris VanAllsburg's detailed illustrations provide excellent opportunities for making inferences and theme extension, but the story details demonstrate his author's craft. This great title works well as a mentor text for writing or for guided reading.
WHAT'S INCLUDED IN THIS RESOURCE?
The unit is set up in a before/during/after format and includes the following:
schema builder
vocabulary organizer and word cards
making connections organizer
column notes organizer for notetaking during reading
BME organizer
question task cards for the book/response page
retelling page
inference examples and impressions
a lapbook or interactive notebook for Earth Day
Earth Day writing prompt
35 pages total
READING SKILLS ADDRESSED:
Context Clues
Making Connections
Making Inferences
Story Retelling/Summarizing
Asking/Answering Questions
Author's Craft
Text evidence
SCIENCE SKILLS:
Reduce, Reuse, Recycle
Endangered Animals
Making a difference at School, in my Community, and in our World
How Plants Help Us
Earth Day Vocabulary
History of Earth Day Flapbook
Global Warming
Cleaning Up in Action
How I Help At Home
I Can Make a Difference
For a detailed look at this unit, a preview is provided with most pages visible.
© 2019 Comprehension Connection by Carla Fedeler All rights reserved.
Save this product for later