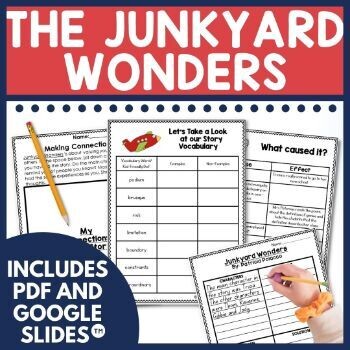 Junkyard Wonders Book Companion
SKU 00098
Product Details
The Junkyard Wonders is perfect any time of year for addressing themes of bullying, friendship, and self-esteem. This comprehension focused unit was developed as a reading and writing unit co-taught with our guidance counselor. It includes both Digital for Google Slides TM and PDF options. If your school uses one to one devices, the digital format will be a great help for literature circles or stations.
WHAT ACTIVITIES ARE INCLUDED IN THE JUNKYARD WONDERS UNIT?
Give one, Get one about Junkyards
Vocabulary organizer with 7 pre-selected words and word cards
Cause and Effect Relationships Anchor Chart and Activity
Story Elements Organizer
Summarizing
Making Comparisons between Texts
Making Connections
Questioning Task Cards and Recording Form 4 pages
Letter Writing
Writing Prompt (full writing prompt and materials 7 pages)
46 pages total (1/2 PDF Printable and 1/2 Google Slides TM)
For a detailed look at this unit, a preview is provided with most pages visible.
HOW THE JUNKYARD WONDERS UNIT IS ORGANIZED:
The unit includes 46 pages of activities (23 in each format). You can pick and choose the parts you want to use and the order. However, my units are organized in a before, during, and after format. I typically project the part of the lesson I'm using to demonstrate my expectation and assign either the digital or print version for completion.
TEACHERS LIKE YOU SAID…
⭐️⭐️⭐️⭐️⭐️ Mary Russell says, "This a great resource for using this book and provides different comprehension strategies as well as higher order thinking skills! "
⭐️⭐️⭐️⭐️⭐️ Ashely H. says, "Such a wonderful resource that I will use for many years to come!! Thank you"
⭐️⭐️⭐️⭐️⭐️ Laura V. says, "Great unit to accompany a wonderful book!"
⭐️⭐️⭐️⭐️⭐️ Elizabeth H. says, "This was perfect for our Patricia Polacco unit. Lots of great questions and prompts for students!"
OTHER PATRICIA POLACCO UNITS YOU MAY ENJOY
To get them all, purchase the Patricia Polacco Author Study Bundle.
PATRICIA POLACCO AUTHOR STUDY IN DIGITAL AND PDF
Copyright © Comprehension Connection.
Permission to copy for single classroom use only.
Please purchase additional licenses if you intend to share this product.
Save this product for later