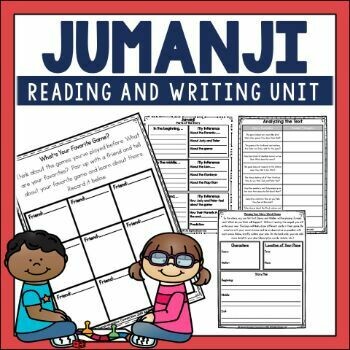 Jumanji Book Activities
SKU 00166
Product Details
is an excellent choice as a mentor text. It has a clever plot, great examples of voice and word choice, and fabulous illustrations. This comprehension focused unit is intended to be used before, during, and after reading for deeper understanding. Students analyze the text through outlining the plot events, working with vocabulary, making inferences using text examples, and by applying their learning in their own writing pieces. You can get a great feel for the unit using the preview supplied.
WHAT'S INCLUDED IN THIS UNIT:
Schema Builder about Playing Games
Vocabulary Organizer
Making Predictions Organizer
Making inferences-Beginning/Middle/End
Visualizing My Favorite Scene/Description
Analyzing Text Examples (author's craft)
Questioning Task Cards/Response Form (12 cards/response page)
Writing Assignment (planning page, 2 drafting pages (beginning, middle, end), writer's checklist for revising, and 2 pages for publishing)
For a detailed look at this unit, a preview is provided with most pages visible.
© 2019 Comprehension Connection by Carla Fedeler All rights reserved.
Save this product for later