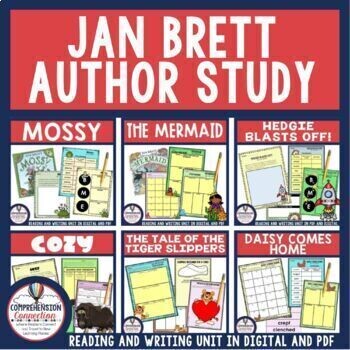 Jan Brett Author Study Two
SKU 00310
Product Details
Jan Brett's books are a favorite for classroom teachers in the middle grades. This bundle of Jan Brett units will make your planning so easy with all of the options. You'll receive each unit in PDF for printing and prepped for Google Slides TM.. All of the units included are geared toward grades 2-4 and include before, during, and after activities for vocabulary, comprehension, and writing.
ABOUT THIS JAN BRETT AUTHOR STUDY BUNDLE:
Again, in this bundle, you get the activities in any form you like...Black and White for printing and Google Slides TM. These comprehension focused activities will make planning so much easier saving you tons of time. The units include skill based activities for the following skills as well as writing extension, vocabulary activities, and a few crafts.
ACTIVITIES TO USE WITH THE JAN BRETT BOOKS LISTED BELOW:
1.Schema builder
2.Vocabulary introduction and Word Cards
3.Making Predictions
4.Story Elements
5.Sequencing
6.Making Comparisons
7.Making Connections
8.Story Retelling
9.Discussion Task Cards for Text Dependent Questions
10. Summarizing
11. Character Traits
12. Cause and Effect
13. Theme
14. Writing Prompts for Narrative Writing, Descriptive Writing, Research, and Essay
TITLES INCLUDED IN THE BUNDLE:
DAISY COME HOME
THE MERMAID
COZY
MOSSY
HEDGIE'S SURPRISE
HEDGIE BLASTS OFF
THE SNOWY NAP
THE TALE OF THE TIGER SLIPPER
FRITZ AND THE BEAUTIFUL HORSES
CINDERS, A CHICKEN CINDERELLA STORY, and
a JAN BRETT LAPBOOK
Save this product for later