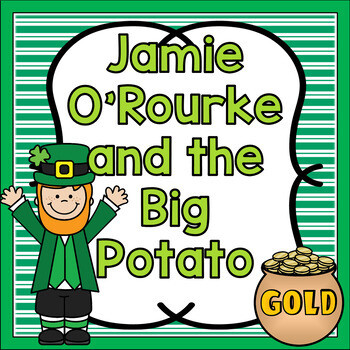 Jamie O'Rourke and the Big Potato Book Activities
SKU 00242
Product Details
Jamie O'Rourke and the Big Potato by Tomie DePaola is a fun tall tale perfect for St. Patty's Day . It is very rich with vocabulary and depth, and it works well for modeling characterization, questioning, story retellings, theme, and as a mentor text for writing.


Product Information

Schema Builder-St. Patrick's Day Alphaboxes
Jamie O'Rourke and the Big Potato Vocabulary Organizer
Character Traits (2 pages)
Story Retelling (2 pages)
Setting Described (visualizing)
Author's Purpose (PIE...2 pages)
Questioning Organizer
A Look at Theme
Writing in Response to Reading (Jamie O'Rourke's Adventures)
Product Contents
The unit is set up in a before/during/after format and includes printables and a writing prompt for post reading. 19 pages total. A preview of the materials included is attached, so be sure to look closely.
Save this product for later