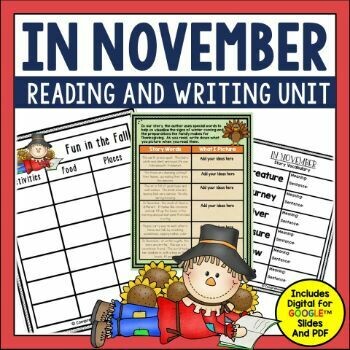 In November Book Activities
SKU 00133
Product Details
In November by Cynthia Rylant is a wonderful book to use during fall.This unit, in PDF and for Google Slides TM, will give you LOTS of options. The description within the book is just wonderful for so many reading skills. This unit will get your students thinking about the meaning of fall and how our seasons change. The poetic language works well for visualizing and provides a writing model for word choice.
Skills addressed through this unit include:
⭐️a prereading quick write to build schema
⭐️a vocabulary foldable to preteach vocabulary for the book
⭐️visualizing with preselected text
⭐️making connections
⭐️writing in response to reading
⭐️question task cards
⭐️author's purpose/genre/point of view flapbook to model these skills
⭐️writing prompt for a class book
44 pages total.
Save this product for later