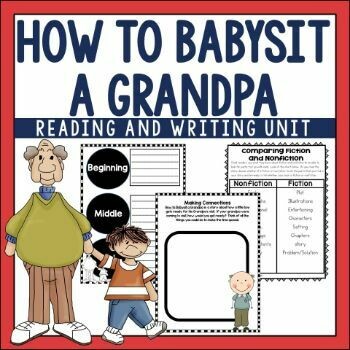 How to Babysit a Grandpa
SKU 00170
Product Details
This delightful book is perfect for Grandparents Day, and with these activities, you can keep the focus on comprehension! You can address key reading skills while enjoying the book, and you can use them as mentor text lessons, in guided reading, or as review.
SKILLS ADDRESSED:
◾️ making connections
◾️ sequencing events
◾️ visualizing
◾️ fiction vs nonfictions
◾️ story elements
◾️ making comparisons
◾️ context clues (vocabulary)
◾️ summarizing/retelling
◾️ questioning thick and thin questions
◾️ writing about reading
WHAT'S INCLUDED:
1. Schema building activity about visiting with grandparents.
2. Story Vocabulary Graphic Organizer | Word Cards
3. Making Connections Organizer
4. BME organizer
5. Fiction vs Nonfiction Anchor Chart
6. Summarizing story information
7. Questioning Thick and Thin questions | Sorting Mat
8. Making comparisons between characters (2 pages)
9. Visualizing using story description and character quotes
10. Story Elements Organizer
11. Book Report Project
12. Notetaking Organizer
For a detailed look at this unit, a preview is provided with most pages visible.
© 2019 Comprehension Connection by Carla Fedeler All rights reserved.
Save this product for later