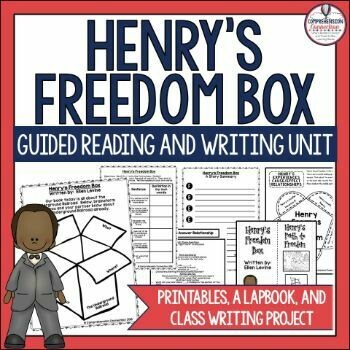 Henry's Freedom Box Activities
SKU 00109
Product Details
If you are teaching about the Underground Railroad, Henry's Freedom Box is a great companion book. Having quality activities to use with the book is a huge help, and this bundle gives you LOTS of Options! It includes comprehension materials, a lapbook project about the Underground Railroad, and a writing prompt to make a class book.
Visualizing During Reading
QAR Explanation and question task cards for sorting and responding
Cause/Effect Relationships using Story Events
Freedom on the Menu Class Book
The bundle includes 31 pages in length to give you options. Your students will have the opportunity for learning many comprehension skills and strategies, write about freedom and the Underground Railroad, and deepen their understanding of our past history. A preview of the materials included is attached, so be sure to look closely.

Save this product for later