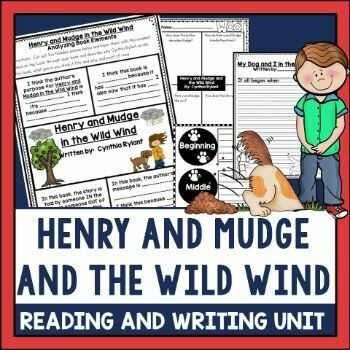 Henry and Mudge and the Wild Wind Activities
SKU 00171
Product Details
Henry and Mudge in the Wild Wind is a great choice to tie into your weather unit or for any time of year. This unit includes before/during/after activities for the book. Use the activities in guided reading, as mentor text lessons, with paired reading experiences, or for literature circles.
The skills addressed in this unit include the following:
Quick Write about Storms
Vocabulary organizer and word cards
Plot Analysis-can be used with each chapter
Character Traits-Finding Text Evidence
Sequencing Events
BME Summarizer
Guided Questions Column Notes
Analyzing the Story-Author's Purpose, Genre, Point of View, and Theme
Question Task Cards/Response form for Post Reading Discussion
Cause and Effect Relationships-Use the anchor chart and foldable
My Dog and I in the Wild Wind Writing Prompt/Class Book
23 pages

For a detailed look at this unit, a preview is provided with most pages visible.
© 2019 Comprehension Connection by Carla Fedeler All rights reserved.
Save this product for later