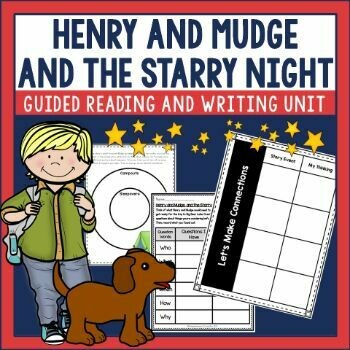 Henry and Mudge and the Starry Night
SKU 00173
Product Details
Henry and Mudge and the Starry Night is a great choice to tie into a camping theme or as a summer read. This unit includes before/during/after activities for the book. Use the activities in guided reading, as mentor text lessons, with paired reading experiences, or for literature circles.
WHAT'S INCLUDED?
brainstorming ideas about campouts and sleepovers
vocabulary preteaching organizer
making connections organizer
predictions anchor chart and organizer
cause and effect chart and foldable
story elements four square thinking
character traits chart and project
give one, get one whole group activity
3-2-1 summarizer
Camping Out on a Starry Night Class Book Project
19 pages in all
HERE'S WHAT ONE CUSTOMER THOUGHT:
"I love how thorough this unit is for the story. I know my students will really gain a lot of knowledge after using all of the parts. It has many different activities, too, so that is nice. Thank you!"
Thanks for taking time to peak at my unit. I hope you find it meeting your classroom needs. Please be sure to look at the unit preview for page details.
Save this product for later