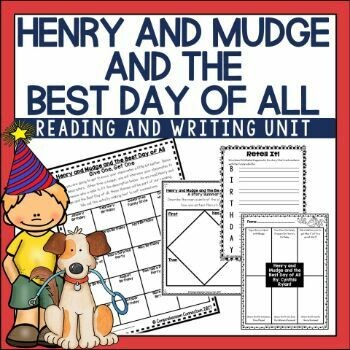 Henry and Mudge and the Best Day of All
SKU 00172
Product Details
Henry and Mudge iand the Best Day of All is a great choice any time of year. Kids love birthdays and can all relate to the themes in this books. This unit includes before/during/after activities for the book to deepen comprehension. Use the activities in guided reading, as mentor text lessons, with paired reading experiences, or for literature circles.
WHAT'S INCLUDED?
Give One Get One Whole Group Schema Builder
Vocabulary Words Organizer AND Word Cards
Fiction versus Nonfiction Anchor Chart
Making Connections Organizer
Column Notes Recording Sheet for Story Details
Character Traits-finding text evidence
Cause and Effect Story Retelling
Visualizing Story Events
BIRTHDAY retelling
BME organizer birthday themed
Retelling about the party
Question Task Cards and Recording Sheet
Story Summary Project
Party Time Class Book
25 pages total
Check out the preview before purchasing for a glimpse at most pages.
© 2019 Comprehension Connection by Carla Fedeler All rights reserved.
Save this product for later