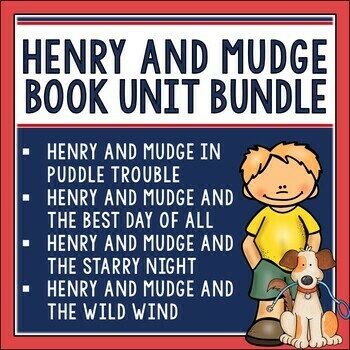 Henry and Mudge Book Unit Bundle
SKU 00252
Product Details
This Henry and Mudge Literacy Bundle is a great choice if you'd like to build enthusiasm for the Henry and Mudge Series. This comprehension focused bundle includes materials for the four titles listed above. You can use the activities in guided reading, as mentor text lessons, with paired reading experiences, or for literature circles. If you're teaching another Henry and Mudge title in your basal series, many of these activities would work well for extension too.
The skills addressed in this unit include the following:
★prereading schema builder about spring
★vocabulary organizer and word cards
★making connections with I Wonder
★story elements anchor chart and flipbook
★summarizing text with The Important Thing Activity
★notetaking by chapter
★questioning task cards and response page
★class book about Henry and Mudge's Puddle Troubles.
★Give One Get One Whole Group Schema Builder
★vocabulary words organizer
★character traits-finding text evidence
★cause and effect
★story retelling
★visualizing story events
★retelling about the party
★question task cards and response page
★story summary project
★party time class book
★quick write about storms
★vocabulary organizer
★plot analysis-can be used with each chapter
★character traits-finding text evidence
★sequencing events
★analyzing the story-author's purpose, genre, point of view, and theme
★cause and effect relationships-use the anchor chart and foldable
★My Dog and I in the Wild Wind Writing Prompt/Class Book
★brainstorming ideas about campouts and sleepovers
★vocabulary preteaching organizer
★making connections organizer
★predictions anchor chart and organizer
★cause and effect chart and foldable
★story elements four square thinking
★character traits chart and project
★give one, get one whole group activity
★3-2-1 summarizer
★Camping Out on a Sarry Night Class Book Project
Thanks for taking time to peak at my unit. I hope you find it meeting your classroom needs. Please be sure to look at the unit preview for page details.
Save this product for later