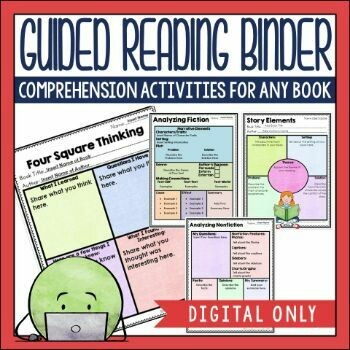 Guided Reading Binder for Google Slides TM
SKU 00175
Product Details
This Guided Reading Binder for Google Slides TM includes materials addressing fiction and nonfiction strategies to use before, during, and after reading with any book. The table of contents is listed below, and sample pages are viewable in the preview file. The materials are interactive and most include written responses. Directions are included on how to use one slide or assignment at a time, and students can either print their finished assignments or submit them to you electronically through file sharing.
Important Note:
Most of these pages are in color. If you plan to print them, you will want the resource for Google Slides TM and printable bundle which includes color and black and white. You can access the bundle with the link below.
Guided Reading Binder Bundle with Black and White PDF and Color for Google Slides TM
The following pages/activities are included in this bundle:
BEFORE READING:
Word Splash Brainstorming
ABC Brainstorming
Quick Write
Vocabulary Foldables 6 and 8 word
Vocabulary Organizer Kid Friendly Definitions and Context Clues
Vocabulary Organizer Examples and Nonexamples
Making Predictions (2 options)
Author's Purpose (2 options)
Story Impressions
Catapult Prereading
I Know, I See, I Wonder
I Bet!
DURING AND AFTER READING:
Column Notes
Pairs Check
Four Square Thinking for Fiction and Nonfiction
Characters Count
Analyzing Fiction and Nonfiction
Looking for the Signals
The Important Thing
SWBSF Accordion Book
Question Stem Task Cards (48)
Response Form
Story Elements Organizer
Retellings (2 options)
Questioning
Nonfiction Text Features Organizers
I Wonder Questioning (5 W's plus H) 2 options
Find the Facts
Main Idea (2 options)
Summarizing Nonfiction
Before, During, After Notes
Skill Foldables (8 of them)
Reciprocal Teaching
Hand Summary
Raft Paper
Skill Based Anchor Charts for Cause/Effect, Fact/Opinion, Inferences, Drawing Conclusions, and Sequencing
Comprehension Strategies for Parents (Handouts)
78 pages total
Save this product for later