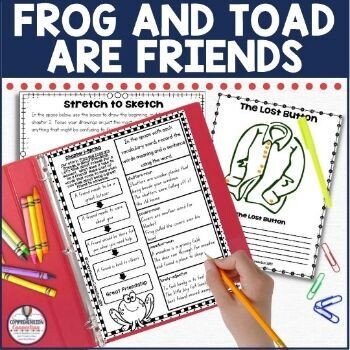 Frog and Toad are Friends
SKU 00139
Product Details
Frog and Toad are Friends is a truly one of my favorite books to use with my students. This COMPREHENSION FOCUSED bundle is EASY TO USE. It's organized in before, during, and after format for each chapter and aligned with the Common Core and VA SOLs. It includes many written response opportunities too.
WHAT SKILLS ARE INCLUDED IN THE FROG AND TOAD ARE FRIENDS UNIT?
schema building
tier 2 vocabulary introductions and practice opportunities
making predictions
making connections
summarizing
author's purpose-
cause and effect
sequencing
making comparisons
comparing fiction and nonfiction elements
narrative elements
and writing
AND...a newly added Boom Learning Deck for post reading (19 slides with full audio)
WHAT TEACHERS HAVE SAID ABOUT MY FROG AND TOAD ARE FRIENDS UNIT:
⭐️⭐️⭐️⭐️⭐️ Dawn S. says, "This was a great resource that I used for small group distance learning and will continue to use as we return to in-person learning. The resources were very organized for the students and they could complete the activities both independently or with a partner. The Frog and Toad stories are always engaging."
⭐️⭐️⭐️⭐️⭐️ Betsy T. says, "This was a great resource to use with these stories! My students were able to organize their thoughts and work on their comprehension."
⭐️⭐️⭐️⭐️⭐️ Shannon D. says, "I really like how thoroughly the skills are taught and how organized each sheet is and can't wait to use it with my kiddos. My only concern is that some of the boxes may be too small for my students to write in and that's why I gave it a B for practicality. Thanks making such a great resource!" (NOTE-Feedback lead to revision to enlarge response boxes. 🙂
⭐️⭐️⭐️⭐️⭐️ Christina M. says, "I am using this in my guided reading group and it is very easy to follow along with. I am pairing this resource with another resource for comprehension questions and I find that these go above what is just in the book. Nicely done!"
OTHER ARNOLD LOBEL RESOURCES YOU MIGHT LIKE:

To get the bundles, purchase the Arnold Lobel Author Study Bundle or the Frog and Toad Bundle.
Arnold Lobel Author Study Bundle
Copyright © Comprehension Connection.
Permission to copy for single classroom use only.
Please purchase additional licenses if you intend to share this product.
Save this product for later