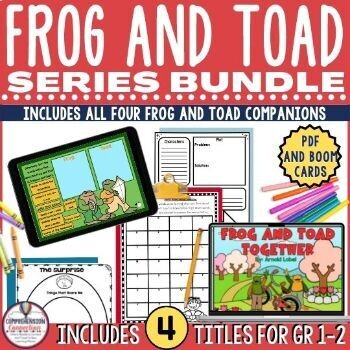 Frog and Toad Series Bundle
SKU 00141
Product Details
The Frog and Toad series are a classic for first through third grade, and it's a huge help to have materials that highlight the skills with each book. This product has themes of friendship, overcoming challenges, and more. The bundle focuses on comprehension skills with each chapter and is organized in a before/during/after format for better understanding. It also includes a Boom Card deck for each of the four book titles.
WHAT SKILLS ARE INCLUDED IN THE FROG AND TOAD SERIES BUNDLE?
The focus is on comprehension, and activities address:
genres
author's purpose
cause and effect
summarizing
story elements
sequencing
problem and solution
character traits
making comparisons
making connections
questioning.
90+ PAGES IN ALL (PDF) PLUS...*4* twenty card Boom Decks for all FOUR FROG AND TOAD BOOKS IN THE SERIES (a $10 value)...80 more pages
HOW IS THE FROG AND TOAD SERIES BUNDLE ORGANIZED?
The activities are hands-on, creative, and will appeal to your young readers, yet simple enough for little hands to complete. Because reading and writing go hand-in-hand, great emphasis is placed on written responses. For that reason, an answer key is not included. In order to stretch and grow your readers' vocabulary, tier 2 words have been selected with multiple opportunities to practice for mastery. Finally, there are many schema building activities to extend the themes in the stories. If you have questions, please email me.
UNITS INCLUDED IN THIS BUNDLE:
OTHER ARNOLD LOBEL RESOURES:
HERE'S WHAT OTHER CUSTOMERS THOUGHT ABOUT THIS BUNDLE:
⭐️⭐️⭐️⭐️⭐️ Sheri B. says, "I like how this covers all of the stories. We are doing an author study on Lobel and this provides a lot of ideas and activities."
⭐️⭐️⭐️⭐️⭐️ Monica P. says, "I downloaded and used this unit with my daughter to keep her engaged with learning over the summer. The unit was great!"
⭐️⭐️⭐️⭐️⭐️ Kathryn D. says, "This gave me an unbelievable number of activities to use with Frog and Toad. Definitely worth the money!"
⭐️⭐️⭐️⭐️⭐️ Deborah M. says, "Great variety of activities and worksheets to use with each of the Frog and Toad books which my students love."
THINGS TO KNOW REGARDING BOOM CARDS:
1) To use Boom Cards, you must be connected to the Internet. Boom Cards play on modern browsers (Chrome, Safari, Firefox, and Edge). Apps are available for Android, iPads, iPhones, and Kindle Fires.
2) For security and privacy, adults must have a Boom Learning account to use and assign Boom Cards. You will be able to assign the Boom Cards you are buying with "Fast Pins," (play provides instant feedback for self-grading Boom Cards). Fast Play is always a free way for students to engage with Boom Cards decks.
3) For additional assignment options you'll need a premium account. If you are new to Boom Learning, you will be offered a free trial of our premium account. Click HERE to learn more.
4) The activities are perfect for guiding group discussion, for paired work if you are able to have students work together, for independent practice, or as an assessment tool to check understanding.
5) You can differentiate and assign some activities to one student and other activities to another student within your class with the paid account (recommended), and you can collect data based on performance.
6) NOTE-Once you make a Boom Card purchase, you will need your purchase ID and the link shared in your download. Copy that code to insert when you redeem the deck. If you have trouble finding your purchase ID, watch this video: https://youtu.be/ProQRTJXYEA
Copyright © Comprehension Connection.
Permission to copy for single classroom use only.
Please purchase additional licenses if you intend to share this product.
Save this product for later