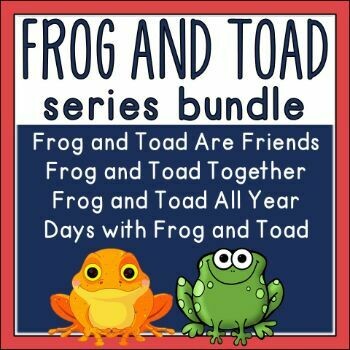 Frog and Toad Series Bundle
SKU 00141
Product Details
The Frog and Toad series are a classic for first through third grade, and it's a huge help to have materials that highlight the skills with each book. This product has themes of friendship, overcoming challenges, and more. The bundle focuses on comprehension skills with each chapter and is organized in a before/during/after format for better understanding. Plus, it now includes a Boom Card deck for each title. A free account on Boom Learning is required as well as an electronic device and wifi.
WHAT'S INCLUDED?
The focus is on comprehension, and activities address:
➤genres
➤author's purpose
➤cause and effect
➤summarizing
➤story elements
➤sequencing
➤problem and solution
➤character traits
➤making comparisons
➤making connections
➤questioning.
90+ PAGES IN ALL
The activities are hands-on, creative, and will appeal to your young readers, yet simple enough for little hands to complete. Because reading and writing go hand-in-hand, great emphasis is placed on written responses. For that reason, an answer key is not included. In order to stretch and grow your readers' vocabulary, tier 2 words have been selected with multiple opportunities to practice for mastery. Finally, there are many schema building activities to extend the themes in the stories. If you have questions, please email me.
Before you buy, be sure to check out the preview for each book. I just remade all four units and added 4-5 pages to each one. Each preview is broken down by chapter.
© 2019 Comprehension Connection by Carla Fedeler All rights reserved.
Save this product for later