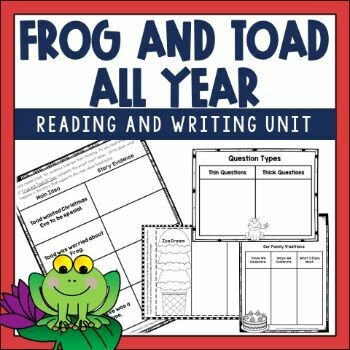 Frog and Toad All Year
SKU 00138
Product Details
Save time and keep your students focused on comprehension with these PRINT and Go activities for It will help your students with using key comprehension strategies before, during, and after reading. Use it for small group strategy discussions as well as literature circles or book clubs. Each chapter focuses on a different comprehension standard. Check out the preview to see how the chapters are organized.
WHAT'S INCLUDED:
►Story Vocabulary
►Winter Words Schema Builder
►Story Elements Anchor Chart and Organizer
►Chapter Summarizer
►Questioning Anchor Chart
►Questioning Fan Project
►Thick and Thin Questions
►Alphaboxes about Summer
►Summarizing Anchor Chart
►Beginning | Middle | End Trifold for The Ice Cream
►What Scares Me/What Surprises Me Schema Builder
►Sequencing Anchor Chart and Foldable
►Family Traditions Organizer
►Main Idea/Evidence
►Writing Response
PLUS:
a Boom Card deck for a digital comprehension check. Click HERE to preview this activity. An account with Boom Learning is needed (free okay) as well as an electronic device and wifi.
The unit includes 24 pages total and is most appropriate for second and third grade; however, with support, first graders would benefit from the activities in whole group with teacher modeling. Frog and Toad All Year is written at a mid-second grade level.
Save this product for later