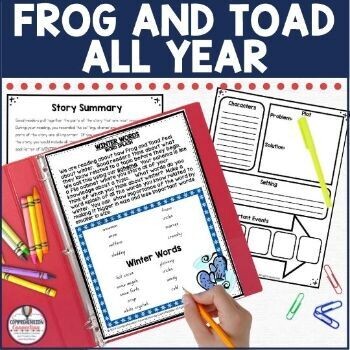 Frog and Toad All Year
SKU 00138
Product Details
Save time and keep your students focused on comprehension with these PRINT and Go activities for It will help your students with using key comprehension strategies before, during, and after reading. Use it for small group strategy discussions as well as literature circles or book clubs. Each chapter focuses on a different comprehension standard. Check out the preview to see how the chapters are organized.
WHAT'S INCLUDED IN THE FROG AND TOAD ALL YEAR UNIT?
Story Vocabulary
Winter Words Schema Builder
Story Elements Anchor Chart and Organizer
Chapter Summarizer
Questioning Anchor Chart
Questioning Fan Project
Thick and Thin Questions
Alphaboxes about Summer
Summarizing Anchor Chart
Beginning | Middle | End Trifold for The Ice Cream
What Scares Me/What Surprises Me Schema Builder
Sequencing Anchor Chart and Foldable
Family Traditions Organizer
Main Idea/Evidence
Writing Response
MORE ABOUT THIS RESOURCE:
This set now also has a newly added 20 card deck of Boom Cards for group discussion and digital learning. The activities are drag and drop with audio support.
The printable unit includes 24 pages total and is most appropriate for second and third grade; however, with support, first graders would benefit from the activities in whole group with teacher modeling. is written at a mid-second grade level.

WHAT TEACHERS HAD TO SAY ABOUT THIS UNIT:
⭐️⭐️⭐️⭐️⭐️ Tabri H. says, "I love teaching Frog and Toad and this was a great resource to go along with my unit at the end of the school year. Thank you!"
⭐️⭐️⭐️⭐️⭐️ Bobbie R. says, "I used this with my high kinder reading group. They absolutely loved it. They loved researching and authentically reading for deeper understanding. They were so engaged. We are still working with this book we are taking it slow since they are in k. We are now comparing frogs and toads. We are getting ready for Frog and Toad book number 2. "
⭐️⭐️⭐️⭐️⭐️ Catherine S. says, "My class loved this unit! 🙂 The local children's theatre put on a Frog and Toad musical around the time we were finishing up this unit. They were so excited to talk with the actors after the play because of this unit! Thank you!"
⭐️⭐️⭐️⭐️⭐️ Patricia Hund (TpT Seller) says, "These activities made our reading and learning so much fore fun! Thank you!."
OTHER ARNOLD LOBEL RESOURCES YOU MIGHT LIKE:

To get the bundles, purchase the Arnold Lobel Author Study Bundle or the Frog and Toad Bundle.
Arnold Lobel Author Study Bundle
THINGS TO KNOW ABOUT BOOM CARDS:
1) To use Boom Cards, you must be connected to the Internet. Boom Cards play on modern browsers (Chrome, Safari, Firefox, and Edge). Apps are available for Android, iPads, iPhones, and Kindle Fires.
2) For security and privacy, adults must have a Boom Learning account to use and assign Boom Cards. You will be able to assign the Boom Cards you are buying with "Fast Pins," (play provides instant feedback for self-grading Boom Cards). Fast Play is always a free way for students to engage with Boom Cards decks.
3) For additional assignment options you'll need a premium account. If you are new to Boom Learning, you will be offered a free trial of our premium account. Click HERE to learn more.
4) The activities are perfect for guiding group discussion, for paired work if you are able to have students work together, for independent practice, or as an assessment tool to check understanding.
5) You can differentiate and assign some activities to one student and other activities to another student within your class with the paid account (recommended), and you can collect data based on performance.
6) NOTE-Once you make a Boom Card purchase, you will need your purchase ID and the link shared in your download. Copy that code to insert when you redeem the deck. If you have trouble finding your purchase ID, watch this video: https://youtu.be/ProQRTJXYEA
Copyright © Comprehension Connection.
Permission to copy for single classroom use only.
Please purchase additional licenses if you intend to share this product.
Save this product for later