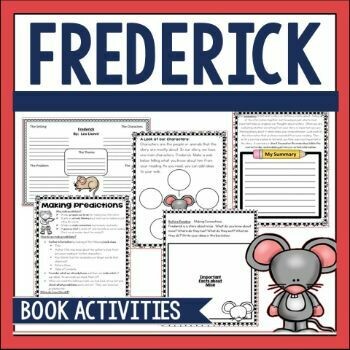 Frederick Book Companion
SKU 00145
Product Details
Frederick by Leo Lionni is a sweet book for second graders, and if you are needing materials to use with the text, this is the set to get. You can work on important comprehension skills as you read as well as rich vocabulary.
This book unit includes before/during/after activities for guided reading groups. Skills addressed in this unit include:
prereading schema builder about mice
vocabulary
making predictions
making connections
character traits
sequencing
summarizing
writing prompts
plot development (narrative elements),
and reading response (class book).
This unit would work well with literature circles or with partners in Daily 5. If you like the format of this unit or Leo Lionni, check out my other guided reading units. Additional Leo Lionni titles are available with the bundle.
Thanks for looking!
Comprehension Connection
Save this product for later