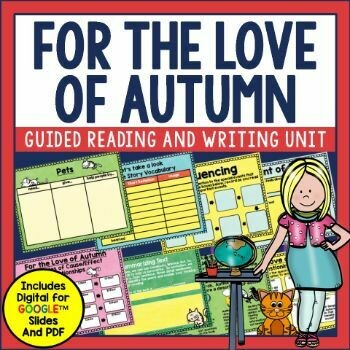 For the Love of Autumn
SKU 00144
Product Details
For the Love of Autumn is a sweet book of a teacher's love of her cat, Autumn, and the book companion is set up in a before, during, after format. You can use the materials in guided reading or in your mentor text lessons for the skills included.
This book unit includes the following activities:
schema building about pets
vocabulary lesson materials
sequencing
point of view
cause effect anchor chart and practice activity
a summarizing page
questioning strategies using the QAR method and and organizer to respond to questions
a responding to text page,
and a writing prompt (38 pages total).
It will last between 3-5 days depending on how quickly your students read and how much of the unit you choose to use. You now have both electronic using Google Slides and PDF options.
Save this product for later