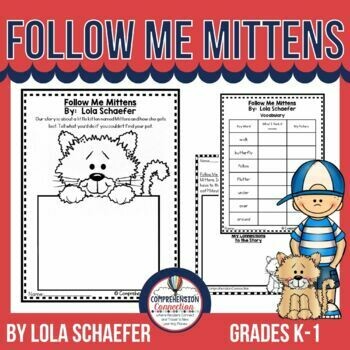 Follow Me Mittens Book Activities
SKU 00298
Product Details
by Lola Schaefer is a sweet beginning reader about a kitten named Mittens that gets lost. This PRINT AND GO unit for this title would work well for first grade level readers. Use for guided reading, partner work, or literature circles.
What's Included:
schema builder about taking care of pets

story vocabulary cards and organizer

BME organizer

favorite scene writing prompt

making connections

responding to comprehension questions (task cards and recording sheet)

story retelling

writing prompt for "Mittens Adventures"

story events organizer
There are 18 pages included for teachers to choose skills that fit curriculum needs.
Save this product for later