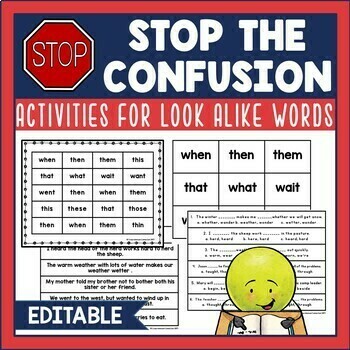 Fluency Activities for Look Alike Words
SKU 00300
Product Details
Do you have a child that struggles with substituting similar looking words in oral reading over and over again? In working with struggling readers, I've observed that visual discrimination can be a real roadblock to reading fluency, so I created these materials to use for my tutorial sessions to address this type of struggle.
WHAT'S INCLUDED:
✱ 10 grid pages with random look-alikes that can be laminated and used in game type activities or used for rapid reading
✱ 9 pages of look-alike words that can be cut apart for various games and flashing
✱ 4 pages of using the words in context
✱ 4 pages of tongue twisters and sentence for oral reading practice.
✱ Teacher's Note with Suggested Activities
✱ 4 Editable Slides (in Google Slides TM) for creating your own
In case confusion is observed with other words not in the set, please note that I've added the FOUR EDITABLE SLIDES so you can make your own gameboards and task cards.
For a detailed look at this unit, a preview is provided with most pages visible.
© 2019 Comprehension Connection by Carla Fedeler All rights reserved.
Save this product for later