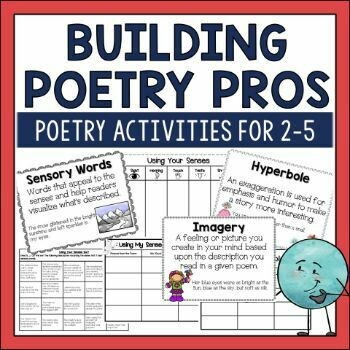 Figurative Language Activities
SKU 00155
Product Details
Reading poetry is great fun, but it's important to recognize poetic forms and understand figurative language. This product includes printable anchor charts for each type of figurative language, graphic organizers for each type as well as poetry analysis question stems to help your students prepare for state testing. These materials can be used with teacher selected books and poems.
Product Contents:
1. Personification Poster and Organizer pp 3-4
2. Alliteration Poster and Organizer pp 5-6
3. Simile Poster and Organizer pp 7-8
4. Metaphor Poster and Organizer pp 9-10
5. Idioms Poster, Practice Page with Examples, Blank Practice Page pp 11-13
6. Hyperbole Poster and Organizer pp 14-15
7. Onomatopoeia Poster and Organizer pp 16-17
6. Imagery Poster and Organizer pp 18-19
7. Sensory Word Poster, Sorting Form, and Descriptors pp 20-22
8. Poetry Question Task Cards to use with any poem to prepare for testing pp 23-27
Please check out the preview for a closer look at the quality and type of activities included. Note- Poetry is not provided with this product due to copyright infringement. However, suggested authors include Jack Prelutsky, Shel Silverstein, Ken Nesbitt (gigglepoetry.com) as well as classic selections for older readers.
© 2019 Comprehension Connection by Carla Fedeler All rights reserved.
Save this product for later