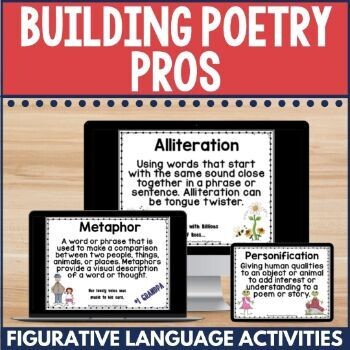 Figurative Language Activities, Figurative Language Organizers, Anchor Charts
SKU 00155
Product Details
Reading poetry is great fun, but it's important to recognize poetic forms and understand figurative language too. This figurative language bundle includes printable anchor charts for each type of figurative language, graphic organizers for each type as well as poetry analysis question stems to help your students prepare for state testing. These materials can be used with teacher selected books and poems, and it's now available for Google Slides TM!
WHAT'S INCLUDED IN THE FIGURATIVE LANGUAGE ACTIVITIES PACKET?
GOOGLE SLIDES TM LINK
Personification Poster and Organizer
Alliteration Poster and Organizer
Simile Poster and Organizer
Metaphor Poster and Organizer
Idioms Poster, Practice Page with Examples, Blank Practice Page
Hyperbole Poster and Organizer
Onomatopoeia Poster and Organizer
Imagery Poster and Organizer
Sensory Word Poster, Sorting Form, and Descriptors
Poetry Question Task Cards to use with any poem to prepare for testing (6 pages plus response form)
32 pages in print and 32 pages on Google Slides TM
HOW ARE THE FIGURATIVE LANGAUGE ACTIVITIES USED?
Teachers can use the anchor charts and organizers in print or on their Smart Boards for modeling. They can be used with teacher selected poetry. It is NOT provided due to copyright. However, I suggest Jack Prelutsky, Shel Silverstein, and Ken Nesbitt for upper elementary lessons. Please check out the preview for a closer look at the quality and type of activities included.
WHAT TEACHERS HAVE HAD TO SAY ABOUT MY POETRY BUNDLES:

⭐️⭐️⭐️⭐️⭐️ Megan A.) says, "Thank you for this resource. Figurative language has been hard for my students to understand, but this is really helping."
⭐️⭐️⭐️⭐️⭐️ Jennifer H. says, "Amazing resource. Easily used with minimum outside prep."
⭐️⭐️⭐️⭐️⭐️ Julia C. says, "So helpful in preparing us to write poetry with our Lucy Calkins poetry unit. Thank you!"
⭐️⭐️⭐️⭐️⭐️ Heather F. says, "Great resource. Easy to use and implement within the class."
Copyright © Comprehension Connection.
Permission to copy for single classroom use only.
Please purchase additional licenses if you intend to share this product.
Save this product for later