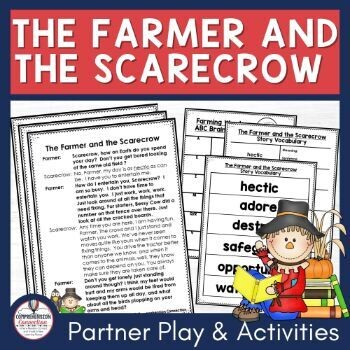 Fall Partner Play, Scarecrow Themed Fluency Activity
SKU 00049
Product Details
Students love partner plays, and they're a wonderful way to work on fluency and comprehension at the same time. The Farmer and the Scarecrow is an original three page partner play perfect for the fall. It is intended for use in small groups, for partners during your literacy workstation rotations, or with your guided reading groups.
HOW TO USE PARTNER PLAYS WITH YOUR STUDENTS:
Teachers can use these engaging activities as a way to build reading fluency for the middle grades. Students love reading and rereading them to practice their parts. Activities are included for a BEFORE, DURING, AND AFTER format to work on close reading skills. You can even assign different plays to different groups and have the students perform them.
WHAT'S INCLUDED WITHIN THE PARTNER PLAY RESOURCE?
The Farmer and the Scarecrow Partner Play
Schema Builder about Farming Vocabulary
A Vocabulary Organizer with Word Cards (Context Clues)
Questioning task cards (12 cards) and Response Sheet
A Comprehension Page to work on Character Traits, and
A Written Response Sheet for Summarizing or for Writing about Life on the Farm
WHAT STANDARDS ARE ADDRESSED WITH THIS ACTIVITY?
Students work on multiple skills with this resource. They improve fluency including phrasing, prosody, reading rate, and automaticity. Students also work on comprehension with practice finding text evidence to make comparisons, analyzing character traits and development, asking and answering questions, and story elements.
OTHER PARTNER PLAYS YOU MIGHT LIKE:
OR....you can get them all at a great savings with the bundle:
PARTNER PLAYS BUNDLE FOR UPPER ELEMENTARY
TEACHERS LIKE YOU SAID…
⭐️⭐️⭐️⭐️⭐️ JD's Rockin' Readers (TpT Seller) says, "I have been using some of your partner scripts with my highest first graders during guided reading! They have been great! These kids are at higher reading levels but still need to be able to use context clues to figure out new vocabulary! These have been PERFECT for them! Thanks!"

⭐️⭐️⭐️⭐️⭐️ Primary Bliss (TpT Seller) says, "So fun! My kids loved this!"

⭐️⭐️⭐️⭐️⭐️ Valerie B. says, "This adds a little pizazz to center work. Thanks"

⭐️⭐️⭐️⭐️⭐️ Patty K. says, "I used this in a small group. Helpful when learning about character traits."

Copyright © Comprehension Connection.
Permission to copy for single classroom use only.
Please purchase additional licenses if you intend to share this product.
Save this product for later