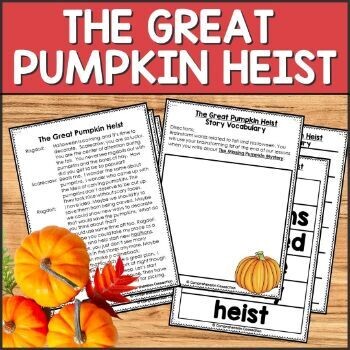 Fall Partner Play, Halloween Partner Play, Fluency Activity
SKU 00048
Product Details
Partner plays are a wonderful way to work on fluency and comprehension at the same time. is an original three page partner play perfect for the fall and Halloween. It is intended for use in small groups or for partners during your literacy workstation rotations or with your guided reading groups.
HOW TO USE PARTNER PLAYS WITH YOUR STUDENTS:
Teachers can use these engaging activities as a way to build reading fluency for the middle grades. Students love reading and rereading them to practice their parts. Activities are included for a BEFORE, DURING, AND AFTER format to work on close reading skills. You can even assign different plays to different groups and have the students perform them.
WHAT'S INCLUDED WITHIN THE PARTNER PLAY RESOURCE?
The Great Pumpkin Heist Play
Schema Builder for Halloween and Fall Vocabulary
A Vocabulary Organizer with Word Cards (Context Clues)
Questioning task cards (12 cards) and Response Sheet
A Comprehension Page to work on Character Traits, and
A Written Response Sheet for Summarizing or for Writing your own Pumpkin Mysteries.
WHAT STANDARDS ARE ADDRESSED WITH THIS ACTIVITY?
Students work on multiple skills with this resource. They improve fluency including phrasing, prosody, reading rate, and automaticity. Students also work on comprehension with practice finding text evidence to make comparisons, analyzing character traits and development, asking and answering questions, and story elements.
OTHER PARTNER PLAYS YOU MIGHT LIKE:
OR....you can get them all at a great savings with the bundle:
PARTNER PLAYS BUNDLE FOR UPPER ELEMENTARY
TEACHERS LIKE YOU SAID…
⭐️⭐️⭐️⭐️⭐️ Mrs O Knows (TpT Seller) says, "Your partner scripts are the perfect solution for our read to a partner rotation. Since not all of my students are reading on level, I am always looking for resources that are on the level of my struggling readers. These are perfect because they are on their level, and they look forward to the reading and the activities that they can complete with their partner. I even have students who are reading on higher levels asking if they can do them too. That is a wonderful problem to have and shows just how fabulous this resource is. Thank you!"

⭐️⭐️⭐️⭐️⭐️ Patricia B. says, "My students loved these plays!"

⭐️⭐️⭐️⭐️⭐️ Bonnie W. says, "This will be great in my 4th grade classroom! They love to work with a partner. I also like the vocabulary page and the task cards! Thanks!"

⭐️⭐️⭐️⭐️⭐️ Maria S. says, "I can't wait to use this in my classroom. My kids really enjoy parthner plays."

Copyright © Comprehension Connection.
Permission to copy for single classroom use only.
Please purchase additional licenses if you intend to share this product.
Save this product for later