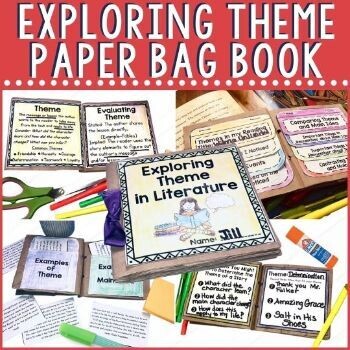 Exploring Theme Paper Bag Book
SKU 00025
Product Details
Teaching theme can be tricky, but with this hands-on theme project your students will be ENGAGED as you explain what theme is, how it's different from main idea, and as they discover common themes in literature.
HOW IS THE PAPER BAG BOOK ORGANIZED?
This project includes before, during, after activities that you can use with a variety of books. It works beautifully for strategy groups, in guided reading, as a work station activity, for test prep review, or as an at home project. Students write in detail about the difference between theme and main idea, sort examples, work on guiding questions, explore theme in multiple texts, and explain their learning. You can use it as guided practice or as an assessment too.
WHAT IS INCLUDED WITH THIS RESOURCE?
Cover for boy or girl
Theme Explained
Theme Flapbook
Theme and Main Idea Sorting
Facts and Opinions in Books (2 pages)
Guiding Questions and Text Sets that fit a common theme
Summarizing My Learning
Grading Rubric
OTHER COMPREHENSION FOCUSED PAPER BAG BOOK PROJECTS:
GET THEM ALL IN THE PAPER BAG BOOK BUNDLE:
Paper Bag Book Bundle for Reading Comprehension
WHAT TEACHERS HAVE HAD TO SAY ABOUT THIS UNIT:
⭐️⭐️⭐️⭐️⭐️ Diva S. says, "We will be working on theme after Fall break and I know this will be a perfect extension to the unit! Thanks so much!!"
⭐️⭐️⭐️⭐️⭐️ Antoinette N. says, "Again I am always happy and pleased with any resource I purchase from you, They are always engaging, and the children learn from them in ways I sometimes cannot teach. Thank you."
⭐️⭐️⭐️⭐️⭐️ Katherine C. says, "A fun resource to practice a difficult skill. Thank you."
⭐️⭐️⭐️⭐️⭐️ Nora Adkins says, "Kids loved it. Super cute!"
Copyright © Comprehension Connection.
Permission to copy for single classroom use only.
Please purchase additional licenses if you intend to share this product.
Save this product for later