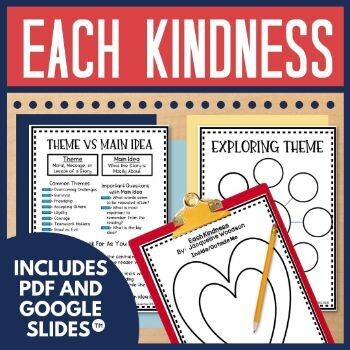 Each Kindness by Jacqueline Woodson Activities
SKU 00081
Product Details
Kindness in the Classroom is so important, and one of the best books to help teach this is Each Kindness by Jacqueline Woodson. This bundle in both digital using Google Slides TM and PDF includes a book companion for introductions, a hands on kindness building lapbook project, a class book project, and an electronic digital lapbook.
HOW TO USE THE EACH KINDNESS UNIT?
You can use it for community building with whole group at the beginning of the year, for writing extensions, to celebrate Black History Month and friendship in February, for small group instruction, and even in work stations. 54 pages total (1/2 PDF for printing and 1/2 in color for Google Slides TM)
WHAT'S INCLUDED IN THE EACH KINDNESS BUNDLE?
Activity Set 1: Book Companion for Each Kindness by Jacqueline Woodson
Use before, during, after activities to highlight the important themes in this book. Skills include vocabulary, inside/outside character traits, story impressions and inferences, theme vs. main idea, questioning, and text evidence. 10 pages including task cards and response page.
Activity Set 2: Acts of Kindness Lapbook Project:
Help your students define kindness, think of ways kindness is shown around them, come up with ideas for Random Acts of Kindness, identify kindness in others, and plan for a peaceful future with this print and go lapbook.
Activity Set 3: Welcome to Our Classroom Book
Each child writes about what makes him/her special and unique and shares tips for new students to help them with school and classroom routines, unique things about the class, and such.
Activity Set 4: Digital unit using Google Slides TM
Everything in the first three sets has been put in color for use on your smartboard or one to one devices. Students can create on the computer and share all files with you electronically for a paperless experience.
HOW IS THE BUNDLE ORGANIZED?
All of my units are organized in a before, during, and after reading format. With this unit, you can pick and choose the activities you'd like and honestly split them up for use throughout the year. As I mentioned, I love using Each Kindness during February in conjunction with Valentine's day, but it's also a great choice for Black History Month since Jacqueline Woodson is such an accomplished African American author. Please check out the preview provided for a close up look. There is a LOT in this bundle.
Save this product for later