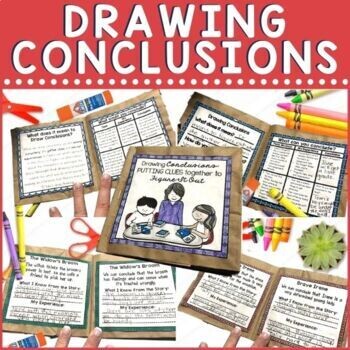 Drawing Conclusions Paper Bag Book for Comprehension
SKU 00077
Product Details
Drawing conclusions is one of the toughest comprehension skills we teach because it requires such deep thinking. This HANDS ON PROJECT will keep them ENGAGED AND FOCUSED as you work on the skill. Children need lots of practice, and this is just what you need.
HOW TEACHERS CAN USE THIS DRAWING CONCLUSIONS PROJECT:
The project offers multiple instructional activities for teaching and practicing drawing conclusions. It can be used one section at a time to build the book over a week, with whole group for modeling, individually in small group, or as a literacy work station. Once complete, it will help your students review. Be sure to check the preview file for a better picture of how it works. Comes in color and black/white.
HOW IS THE DRAWING CONCLUSIONS PAPER BAG BOOK ORGANIZED?
Cover
Drawing Conclusions Anchor Chart and Examples
Drawing Conclusionss Defined (what it is and is not)
Drawing Conclusions Chart Completion
Sorting Conclusions and Simple Inferences
Practice with The Widow's Broom by Chris VanAllsburg
Practice with Brave Irene
Drawing Conclusions about ME
OTHER COMPREHENSION FOCUSED PAPER BAG BOOK PROJECTS:
GET THEM ALL IN THE PAPER BAG BOOK BUNDLE:
Paper Bag Book Bundle for Reading Comprehension
WHAT TEACHERS HAVE HAD TO SAY ABOUT MY PAPER BAG BOOK PROJECTS:
⭐️⭐️⭐️⭐️⭐️ Christina K. says, "My students love doing these paper bag activities. It gives them practice without overwhelming them."
⭐️⭐️⭐️⭐️⭐️ DeeDee C.says, "This is such an original idea! My students enjoyed this and learned a lot at the same time!"
⭐️⭐️⭐️⭐️⭐️ Maureen O. says, "Fabulous resource! Thank you for creating such a great product:)"
⭐️⭐️⭐️⭐️⭐️ Megan S. says "Excellent resource! I would recommend to others. Students were engaged and were able to demonstrate their knowledge of fact and opinion. I might suggest adding an answer page for the key word sort as we had a lot of disagreement and discussion about these words. Thank you for a great resource!"
⭐️⭐️⭐️⭐️⭐️ Marie S. says "This was so much fun to do with our students! The activity was done within a week, but it was so engaging and the students were really understanding the purpose and concept of the lesson. Such a big help!!"
Copyright © Comprehension Connection.
Permission to copy for single classroom use only.
Please purchase additional licenses if you intend to share this product.
Save this product for later